About Us
We are a team of highly skilled professionals dedicated to providing our patients with the highest quality dental care and service possible.
Meredith Goodrich, DMD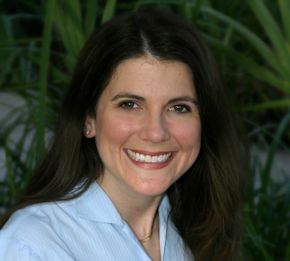 Dedicated to Your Care and Comfort
Dr. Meredith Goodrich has many interests, including healthy teeth. Before dental school, she valued her time studying English literature right here in Gainesville, and she remains an avid reader. She also had some experience working in radio advertising. And although time with a family, including two small children, leaves her less free time, she still enjoys cross-stitchery and pottery. These interests reflect the kind of detail and care that she brings to dentistry.
She has also retained her interest in studying new things. After graduating from the University of Florida College of Dentistry in 2002, she completed a one-year Advanced Education in General Dentistry training in the Air Force. Dr. Goodrich served for four years in the Air Force Dental Corps and received the Air Force Commendation award in 2006. She maintains a strong interest in studying the latest dental techniques and products. In 2012, the Academy of General Dentistry awarded Dr. Goodrich a Fellowship for her achievements in education. She and her husband Chris were married in Gainesville in 2002 and returned in 2007 to build a family. They have two daughters who are a constant joy. They love Gainesville because of family ties, church, friends, and the Gators.
Fellow, Academy of General Dentistry
Advanced Education in General Dentistry, Air Force Academy, 2003
Air Force Commendation, 2006
Member, Florida Dental Association
Member, Central Florida District Dental Association
Member, Alachua County Dental Association
Member, Pankey Institute
Volunteer, Alachua County We Care Program & Baptist Mobile Dentistry
Christian Dental Society
Graduate, University of Florida College of Dentistry
What we do

General Dentistry
We us the latest dental technology to ensure your comfort

Cosmetic Dentistry
We offer many options to help you get the smile of your dreams

Prosthodontics
Dental care for the replacement of missing or damaged teeth